Ogwen Bank Caravan Park & Country Club in Bethesda, Gwynedd



Category :
Tourism Guides

Address :


Bethesda
Gwynedd
LL57 3LQ
Gwynedd
Telephone :
01248 600486
Fax :

01248 600559



The Ogwen is a delightful river that runs alongside the Holiday Park from the mountains of Snowdonia, in some parts in rushes by whilst in others it stretches into deep pools and is home to salmon and sea trout. Fishing is allowed in the river but not in the park.
The whole area surrounding the Ogwen river is renowned for activity based holidays.
The holiday park has a wide range of onsite facilities and also houses the Olde Worlde Country club deep in the heart of the park complete with log fire and licensed bar, the bar provides the perfect atmosphere in which to relax after a fun filled day of activities exploring the magnificent Snowdonia National Park. Bar meals are served all day and evening and take aways are available throughout most of the holiday season. There is a separate bar for children which serves soft drinks and coffee.
There is a wide range of entertainment for all the family to enjoy including; live entertainment, pool tables, video games and satellite TV.
For those looking for that extra bit of luxury and more spacious accommodation, there are great selection of two and three bedroom Pine Lodges that are much larger than the caravan homes. They also benefit from superior levels of equipment and full central heating throughout, free-standing furniture, dishwasher, washer/dryer, full size bath with shower and private decking area.
The lodges are located on a beautiful landscaped development in a quiet location surrounded by woodlands and views of the Ogwen River.
Ogwen Bank also has a wide selection of Holiday Homes for Sale.
For those that like to get out and about Ogwen Bank is surrou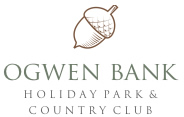 nded by a wealth of attractions and activites including the wonderful Snowdonia National Park, maritime museums, Gwydir Forest, Padarn Lake Country Park and Quarry and Plas Y Brenin dry ski slope.
---
4365
Click Throughs,
23713
Page Views